Colorful, Cool, Collaborative

At ten years old Augie Webster came up with the idea of Wheelchair Action Art. Today he creates vivid, action-filled paintings using his wheelchair, communication device, imagination, and the help of his family and friends.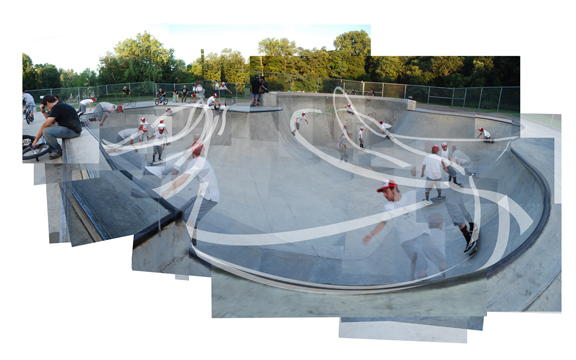 Inspired by
skateboard artist Sean Greene
at the Arlington Artisphere and his school's PTA art contest theme, "Together We Can," Augie told his mom, "I could make wheelchair art. I need help." Augie is a bright boy, but has severe physical limitations. He has quadriplegic cerebral palsy.
His family agreed to make his dream a reality. In September of 2010, Augie masterminded his first wheelchair art project creating 12 pieces with the help of his family. Pictured here is the painting that took first place in his school's contest for third through fifth grades.
Encouraged by friends and family, he continues to create wheelchair action art. He takes special requests and will create one for you. Thanks to their popularity, Augie's paintings are on T-shirts, mugs, and cards at cafepress.com and zaggle.com.
(See Products in the side bar.)
All proceeds are used to cover his art production expenses. Hopefully one day these funds will be enough to enable Augie to help others with disabilities enjoy creating art projects. Augie would like to help all kids and adults with wheelchairs make fun, meaningful art.